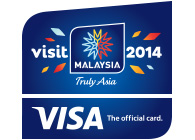 The Ministry of Tourism and Culture (MOTAC) and Visa entered into a strategic alliance to promote the Visit Malaysia Year 2014 and Malaysia Year of Festivals 2015 campaigns. The alliance was formalised with the signing of the a Memorandum of Understanding (MoU) between MOTAC, represented by Mr Ruben Salazar Genovez, Vice President, Consumer Product, Visa.
Under the agreement, VISA is named the Official Card for Visit Malaysia Year 2014 and Malaysia Year of Festivals 2015. Visa's global presence will help to encourage more people to visit Malaysia and support MOTAC to achieve its 2014 target of 28 million tourists and RM76 billion in tourism receipts.
YBhg Datuk Dr Ong Hong Peng said that MOTAC is very excited to have VISA as its strategic alliance partner for the Visit Malaysia Year 2014 and the Malaysia Year of Festivals 2015. These two key events will not only benefit from the association with one of the world's leading brands, but will provide the Ministry with endless opportunities to reach out to an unprecedented global audience through VISA's global network.
To maximise the alliance, VISA will be working with MOTAC to promote Malaysian tourist destinations and events to visitors from key travel corridors and banking partnerrs in each countries to promote targeted destination offers and attractions to millions of VISA cardholders. This includes key tourism packages design from the Visit Malaysia Year 2014 Mega Events.
During the event, VISA also unveiled an innovative travel app - the VISA Explore App, which will provide relevant information to travelers visiting Malaysia, such as tourist hotspots, transportation options, local etiquette and promotional offers related to shopping and dining. VISA and MOTAC will use VISA's strategic merchant partners to develop and promote key programs to VISA cardholders encouraging them to visit Malaysia. This includes promotional offers in the travel, food, entertainment and retail segments, as well as for prominent sports and cultural events in the country.