Sultan Abdul Samad Building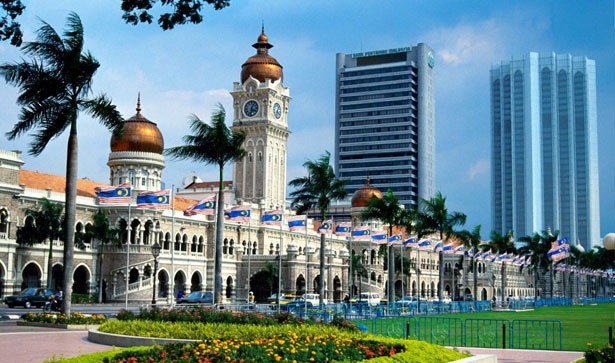 The Sultan Abdul Samad Building with its beautiful Moorish architecture is a prominent landmark of Kuala Lumpur. The building is located in front of Dataran Merdeka and the Royal Selangor Club, along Jalan Tuanku Abdul Rahman. The structure takes its name from Sultan Abdul Samad, the reigning sultan of Selangor at the time when construction began.
It was designed by A.C. Norman and built in 1894-1897 to house several important government departments during of the British administration. The building houses the offices of the Ministry of Communications and Multimedia of Malaysia (Malay: Kementerian Komunikasi dan Multimedia Malaysia). It once housed the superior courts of the country: the Federal Court of Malaysia, the Court of Appeals and the High Court of Malaya. The Federal Court and the Court of Appeals have since relocated to the Palace of Justice in Putrajaya in the early 2000s, while the High Court of Malaya was moved to the Kuala Lumpur Courts Complex in 2007.
On important occasions, the building is decorated with colourful lights and flags. The historic Dataran Merdeka, where the Union Flag was lowered and the Malayan flag hoisted for the first time on 31 August 1957, stands across the street from the Sultan Abdul Samad building.